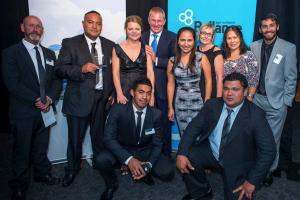 Congratulations to Woodhaven Gardens for winning the 'Hill Laboratories Harvest Award' at the 'Ballance Farm Environment Awards' ceremony on March 17th 2016.
This award recognises the farmer who is predominantly involved in growing crops, (e.g. Grain, Seed, Viticulture, Horticulture) but also encompasses livestock farmers who demonstrate excellent pasture and soil management.
Judges were impressed with Woodhaven's:
• Commitment to controlled traffic farming to minimise soil compaction and maintain soil health
• Dedicated team of agronomists who intensively monitor crops for pest and disease ensuring quality and justifying spray applications
• Investment in development of Hortrac software recording field, harvest, sales activities allowing full traceability of each crop
• Crop rotation to reduce soil-borne disease; retiring fields to pasture/maize for reincorporation to improve organic matter status.
You can read more about the award here