Woodhaven Gardens was the big Horowhenua-based winner at the awardson Friday night in Levin, picking up the New Thinking Achievement award. The business was recognised for its website-based logistics and production programme 'Hortrac'.
The business had improved its efficiency significantly by applying the exhaustive tracking information the programme allowed.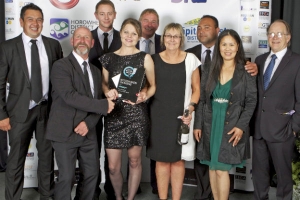 "It's traceability of the product; we can record everything from sowing to plate, so it allows us to track cases in freight, compute all products and cases going out the gate, and ensure we're being paid for each, who it was packed by, and what's been done to it. It saves massive amounts."
The judges said Woodhaven had a strong track record and reputation, and praised their new programme.
"This is a very well run business that has developed some clever online systems that will not only help themselves significantly but could also become a potentially successful business in its own right," the judges said.
More than 400 people attended the formal awards dinner at the Horowhenua Events Centre, which marked the 20th year the awards had been held.